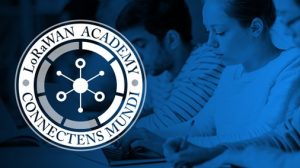 LoRaWAN Academy is an all-encompassing, hands-on curriculum for university students to learn about the LoRaWAN open specification from the creators of LoRa and the ecosystem that scaled its international adoption. The two-part training program includes a robust online course library as well as LoRaWAN development kits and IoT network infrastructure for hands-on lab training.
The 10-week program is self-paced and offered on a rolling basis-no formal program start dates. Each week's curriculum includes 4-8 hours of video lectures, supplemental reading and materials, as well as problem sets, assignments and quizzes to benchmark learning. The program culminates with a hands-on applied research project for students to build real-world IoT applications.
Content is appropriate for beginner engineering students to intermediate-level engineers looking to learn more about LoRaWAN.
Kerlink is LoRaWAN gateway sponsor and is proud to joint this consortium of companies that have deployed LoRaWAN solutions internationally, enabling cutting-edge IoT applications that make our world smarter.