Wirnet iBTS
The Wirnet iBTS IoT gateway is a robust, performant and highly scalable outdoor LoRaWAN gateway for smart IoT network.
Its carrier-grade conception offers powerful embedded processing capabilities, secure design, advanced remote monitoring options, and enhanced radio network configuration, easy to operate even for non-telecom users. Already widely deployed worldwide to power tier one operators' networks, it is available in most global unlicensed frequency bands (like ISM).
The Wirnet iBTS standard allows flexible scalability, through modularity and antenna diversity, to simultaneously improve uplink receiver performance (Rx) and increase transmission downlink capacity (Tx).
The Wirnet iBTS Compact version will be the perfect match for operators and enterprises looking for a turnkey solution, offering first a light and compact form-factor. Il will simplify installation with its built-in mono or dual-WAN backhaul and integrated antennas for GPS receiver and 2G/3G/4G cellular modem.
This LoRaWAN gateway is fully compatible with LoRa® native sensors geolocation  and can be remotely monitored and managed with Kerlink network operations solutions, the Wanesy Management Center.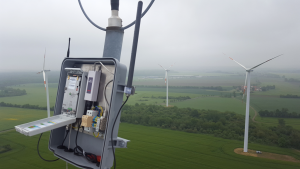 LoRaWAN IoT network deployment by Raycap, using Kerlink Wirnet Station gateway
Photo credit- Raycap©
Documentation
Wirnet iBTS in the IoT chain
Connected end-device

LoRa® Radio Network

Wirnet iBTS LoRaWAN Gateway

Core Network Operations Support System

LoRa Network Server

IoT Business Application
Embedded Base Station Controller and Radio Network Controller, for remote operations
Strengths
Carrier grade, robust, modular and scalable outdoor LoRaWAN Gateway
Low Power consumption and Wide Area coverage (15+km in semi-urban area and 2km in urban area)
High capacity and reliability, for bidirectional communications handling high volumes of end-points and messages.
Light infrastructure, easy to install, fast to configure and flexible to upgrade.
High interferences-resistance for better data transmission and permanent high availability.
Fully compatible with network-based LoRa® native geolocation solutions
Technical features
CPU & Memory:
Powerful ARM processor with hardware watchdog and optimized power consumption management
DDRAM 256 MB / 8 GB eMMC
Operating System:
LoRa® Packet Forwarder, Linux OS, embedded base station controller (Wanesy Management Center remote management)
Software packages and development tools included
Networking:
Firewalling, routing, networking and tunneling features
Security:
Secure boot, trust zone, firewall, software auto-recovery and secure firmware remote upgrade.
GPS:
Integrated high sensitivity GNSS module
Ready for GPS, GLONASS, BeiDou, QZSS and Galileo
Mechanical:
Standard casing:
Robust and waterproof aluminium casing, only 6 kg for basic version (including mounting kit), with full array of connectors.
Compact casing:
Robust and waterproof polycarbonate enclosure, only 3 kg (including mounting kit), with minimum set of connectors requested.
Power:
PowerOverEthernet supply, DC power supply (for solar panel use for example)
Power control and alerting, with remote monitoring and management using Wanesy Management Center
Back-up battery
Communication:
Standard casing: from 1 LoRa® RF modem (16 channels) up to 4 LoRa® RF modems (64 channels)
Compact casing: 1 LoRa® RF module (16 channels)
Bidirectional communications, range of 15+ km in sub-urban areas, and of 2 km in urban areas.
Supported ISM bands: EU 863-870 MHz, India 865-867 MHz, US 902-928 MHz FCC, AUS 915-928 MHz, and AS 923 MHz
Backhaul connectivity over GPRS/EDGE/HSDPA/UMTS/LTE (Europe, APAC, Americas bands – mono or dual WAN), Ethernet.
Environment and sensors:
Large operating range, high humidity tolerance
Certified for Ingress protection / Impact resistance / UV resistance / Flammability rating
Embedded sensors for remote secure monitoring and management using Wanesy Management Center Base Station Controller.
Geolocation:
Ready for LoRa® geolocation combining RSSI and Time Difference on Arrival (TDoA).
Available for outdoor and indoor environments
Compatible with Wanesy Geolocation
Remote management:
Remote alarm notification, firmware upgrade, file transfer, configuration, radio monitoring and statistics (Wanesy Management Center)
Certification:
EU / FCC / IC / ETSI certified.
Compatible accessories:
LoRa Antennas
GNSS and WAN antenna
Antennas mounting kit
Surge protections
Cavity filters
Exemples of configurations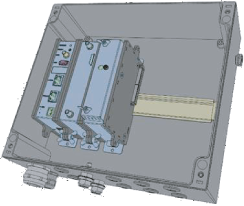 Configuration Data Only (or Loc) Omnidirectional :
1 UC board, on the left;
1 WAN board, on the middle;
1 LoRa modem module with 1 input for antenna (thus to be used with 16 channels), on the right.
Use cases
Smart Cities

Smart Agricultures & Environment

Smart Transportation & Logistics

Smart Industries

Smart Building & Facilities