Kerlink's New LoRaWAN Gateway Offers 3G/4G Backhaul for Indoor Coverage and Network Densification
Wirnet™ iFemtoCell-evolution is the latest member of Kerlink's new i-series station line. It is designed for indoor use in smart cities, smart buildings, and other smart applications that require dedicated indoor coverage and/or network densification and operational excellence with an internal 3G/4G backhaul.
This gateway leverages the same software as Kerlink's Wirnet iBTS, iStation, and iFemtoCell equipment, a synergy that allows LoRaWAN® IoT network owners to reduce operational costs thanks to a simpler integration and a unique user experience. This new gateway offers a more intuitive design and is also supported by the Wanesy™ Management Center (aka WMC), Kerlink's comprehensive software suite for easy network operation, monitoring, and management.
Kerlink's addition of 3G/4G-backhaul connectivity is a popular choice for flexible data transport to cloud-based applications in multiple geographies. It enhances cellular connectivity versatility and offers an alternative option in countries where 3G is inadequate or is being decommissioned.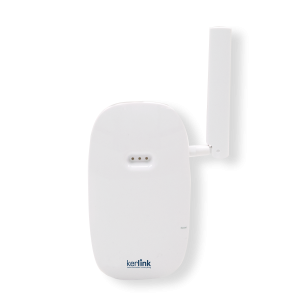 This new LoRaWAN gateway also offers flexible power options, mixing a 90-264VAC/12VDC power supply with jack connector provided, a 5VDCpower/USB-C, and an uninterrupted power supply granting 24h autonomy (accessory), to cover a wide range of field use-cases.
In an additional effort to power small private networks, Wirnet iFemtoCell-evolution supports Kerlink Wanesy Small Private Network Version 2 (aka SPN2), software that bundles a LoRaWAN gateway management system and a LoRaWAN network server. Together this combination forms a turnkey solution with an edge-integrated architecture, designed by Kerlink experts, with no compromise on reliability, robustness, and security to meet industrial-grade requirements.
This new gateway enriches the possibilities of deployments using the Wirnet i-series and empowers users to deploy ambitious IoT applications mixing indoor and outdoor use-cases, along with different backhauling options.
Wirnet iFemtoCell-evolution is the second new Wirnet i-series carrier-grade gateway introduced by Kerlink this summer. Wirnet iStation, announced in June, is designed for outdoor LoRaWAN network deployments and delivers 4G backhaul connectivity with fully integrated internal antennas and meets customer requirements for quick-and-easy outdoor LoRaWAN IoT network deployment and management.
Designed for indoor LoRaWAN small private network deployments anywhere in the world, Wirnet iFemtoCell-evolution supports multiple ISM bands, such as 868Mhz, 915Mhz, and 923Mhz, and is certified by key regulatory agencies in Europe (CE), the U.S. (FCC), Canada (IC), and South Korea (KC), and in other countries.